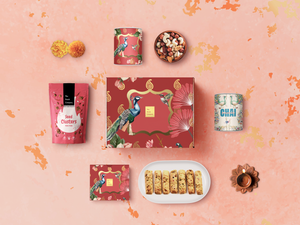 THE SNACK COMPANY
Taste of Tradition: Essence of Diwali
Regular price
Rs. 1,250.00
Rs. 0.00
Unit price
per
Introducing a meticulously curated Diwali gift box that encapsulates the very essence of the festival.
Delight in a thoughtfully assembled assortment that encompasses the season's quintessential elements – aromatic spices, wholesome nuts, nourishing seeds, and luscious dry fruits.
Inside this enchanting box, you'll discover a harmonious blend of tradition and innovation:
Peri Peri Seed Cluster – A dynamic superfood-infused snack that ignites your taste buds with an explosion of flavors. It's a true firecracker for your senses, presented in a 50g portion.

Mixed Dry Fruits – An 80g medley of opulent Almonds, Cashews, succulent Raisins, vibrant Pistachios, and tantalizing Berries, forming a mosaic of rich flavors and textures.

Chai Masala – Crafted from a heritage recipe passed down through three generations, this aromatic blend melds cardamom, ginger, cinnamon, and an array of spices. A 100g secret infusion that captures the essence of familial tradition.

Almond-Cashew Sticks – A health-conscious indulgence comprising 150g of crispy biscuits. Crafted without Refined Flour, Refined Sugars, Palm Oil, preservatives, additives, or hidden components. 

This is an embodiment of clean-label excellence, offering both delectable taste and a healthier choice.
Complementing these treasures, you'll find a heartfelt greeting card and a luminous Diya to complete your festive experience.
Embrace the Diwali spirit with this thoughtfully designed assortment, embodying a celebration that cherishes both heritage and well-being.
Contents 
50g Peri Peri Seed Clusters

80g Mixed Dry Fruits (Almond, Cashew, Raisin, Pistachio, Berries)

100g Chai Masala

150g Almond Cashew Sticks

1 Greeting Card

1 Diya
---