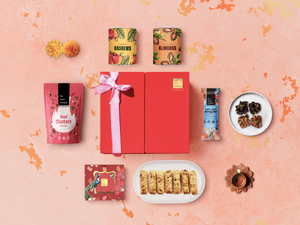 THE SNACK COMPANY
Festive Extravaganza: Gourmet Delights Diwali Box
Regular price
Rs. 2,110.00
Rs. 0.00
Unit price
per
Discover the epitome of gourmet indulgence within our artisanal snack box, meticulously crafted using an array of premium dry fruits, nuts, and seeds. Unveil a world of delectable offerings that redefine snacking, contained within this elegant assortment:
Fruit & Nut Energy Bar – A single, tantalizing 30 g bar that encapsulates the wholesome goodness of dried fruits and nuts.

Nut-Based Couverture Chocolate Rochers – A duo of exquisite treats that harmoniously blend the richness of nuts with the velvety allure of chocolate, offering a symphony of textures and tastes.
Cheesy Cashew – A savory delight of 80g, wherein the creaminess of cashews meets a subtle cheesy seasoning creating a taste that lingers on the palate.
Salted Almonds – Revel in the simple elegance of 80g salted almonds, a classic favorite that accentuates the nut's natural flavor.
Peri Peri Seed Cluster – A 125g explosion of superfood-infused ecstasy, each bite of this snack unveils a dynamic burst of flavors that ignites your senses, like a sparkling firework.
Almond-Cashew Sticks – Embark on a journey of healthier festivity with 150g of crunchy indulgence.
Crafted devoid of Refined Flour, Refined Sugars, Palm Oil, preservatives, additives, or concealed ingredients. This embodies a clean-label treasure trove that marries taste and health impeccably.
Immerse yourself in the spirit of celebration with these innovative alternatives, providing guilt-free pleasure. Our offerings stand distinct, being both flavorful and health-conscious. Complete with a heartfelt greeting card and two radiant Diyas, this ensemble encapsulates the essence of festivity while embracing a commitment to clean and conscious living

Contents 
30g Fruit & Nut Energy Bar

Nut Based Couverture Chocolate Rochers

Cheesy Cashew 80g

Salted Almonds 125g

Peri Peri Cluster 150g

Almond Cashew Sticks

2 Diyas

1 Greeting Card
---